Microsoft will stop supporting old versions of Internet Explorer
Published on August 22nd, 2014
Microsoft will stop supporting old versions of Internet Explorer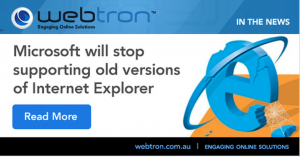 Here's the news many online operators will be toasting to. It's a common sense business decision from Microsoft.
Microsoft will stop supporting old versions of Internet Explorer.
Starting on January 12th, 2016, Microsoft will stop issuing security updates and providing tech support for any IE browser other than the most recent version forcing users to migrate to the newest version. Currently, that is IE 11.
It's an ongoing nightmare for Microsoft and it's clients supporting old technology.  With so many versions still in use and all behaving slightly differently it has become time-consuming supporting it. So this decision from Microsoft makes perfect sense.
18 months ago Australian online electronics retailer Kogan was set to place an excise on it's clients using old versions of explorer when making purchases from the Kogan website. The reason being it takes a lot of time to make e-commerce services backward compatible for multiple out of date versions of Internet Explorer. The internet has developed so much since the earlier versions were released. Meaning trying to offer website visitors the same user experience and quality can be a challenge.
It's interesting to reflect how things have changed, at one time Internet Explorer led the pack and was the biggest undisputed king of internet browsers. But nothing stands still for long on the web.
According to wikipedia
"attaining a peak of about 95% usage share during 2002 and 2003. Its usage share has since declined with the launch of Firefox (2004) and Google Chrome (2008), and with the growing popularity of operating systems such as OS X, Linux and Android that do not run Internet Explorer. Estimates for Internet Explorer's overall market share range from 27.4% to 54.13%, as of October 2012 (browser market share is notoriously difficult to calculate)." 
And finally this month Forbes.com reported such was the current negative perception of Internet Explorer, Microsoft is considering a name change.
Recent UK TV commercial for Microsoft Internet Explorer.