An outdated browser equals an outdated experience
Published on February 28th, 2014
Have you ever been to a website and seen something that is just not quite right? Then you think, "hang on but it was working fine on the other computer…"
This could be due to several reasons, but in web design and development it is usually caused by issues with older browsers.
Some common issues can be attributed, and not limited to, older versions of Internet Explorer. Internet Explorer 6, 7 and 8 can be hard to develop for due to the old infrastructure that it was built in, eons ago.
Don't get us wrong, Microsoft produces wonderful software that has helped propel the Information Technology industry in leaps and bounds. However, when it comes to browsers Internet Explorer 7 and below have some issues regarding presentation and adhering to standards.
Why you should keep your browser up to date
There are numerous benefits of having an up to date browser, browsers such as Internet explorer 6 & 7 can be prone to stability, viruses and other security issues, which are very important reasons to keep up to date.
Another example of why it is important to keep an up to date browser is shown below, on the left we can see how the SBS On Demand website will look when viewed in Internet Explorer 6 and the right, the latest version of the Google Chrome browser. It is easy to spot the differences in appearances of the same website in different browsers.
This test shows one of the most prominent reasons as to why having an up to date browser is needed, there are also performance and stability issues as mentioned before that is not so easily seen in an example like this.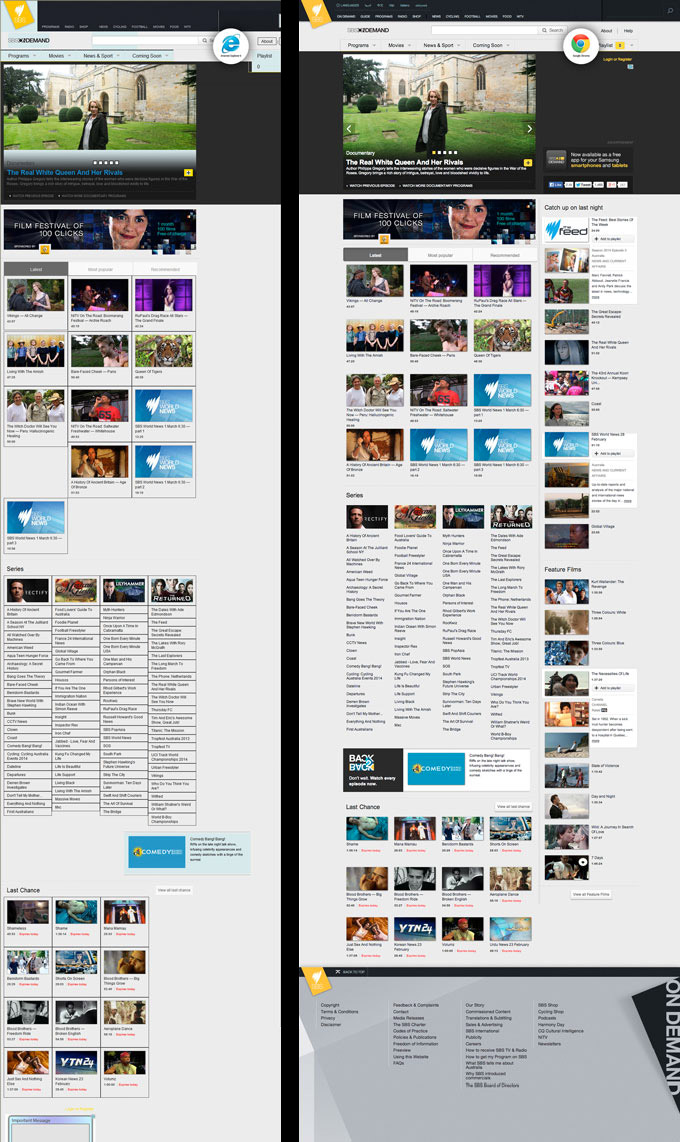 What to do from here?
It's understandable that in a lot of medium to large companies there are numerous policies and processes in place to manage the software in the workstations. And we understand that it may not be an easy task to update browsers or even install third party software due to inter-dependencies that have been constructed by your IT department.
Ask your IT department to help you update your browser to the latest version of Internet Explorer (if this is what you are using) or alternatively if this is not possible install the latest version of another browser such as Chrome, Firefox or Opera. And we guarantee that you will have a much better and fuller browsing experience!