Responsive web design
Published on July 7th, 2014
What is Responsive Web Design?
Responsive web design crafts web sites to provide an optimal viewing experience for the website visitor—easy reading and navigation with a minimum of resizing, panning, and scrolling—across a wide range of devices (mobile phones/ tablet or desktop computer devices).
It is estimated that currently, there are around 2 billion people all over the world using the internet on their smart phones, tablets and other mobile devices. The question is, when these people navigate to your company's website on their mobile device, will they be happy with what they see?
If your website is older than two years old, chances are it is not responsive in design. Sure, it might look amazing on a laptop web browser, but when viewed on a smart phone it takes a while to load, has big images, is difficult to read and is almost impossible to navigate. How many customers could you be losing out on because your websites design is not current.
And here's why your company's website may need a mobile makeover: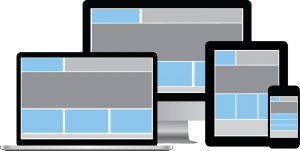 Responsive web design has gained in popularity in the last year and is now the industry standard among programmers and designers. Largely due to the wide diversity of current screen sizes and resolutions on today's technology devices.
Mobile versions are not always sufficient in delivering optimal user experiences. Although for some websites a dedicated mobile website still needs to be considered.
But the overall current web design trend is businesses are converting their websites to be responsive in design.
Check what is happening in your marketplace and make sure your competitors don't get the jump.