Yahoo CEO Marissa Mayer is to be applauded
Published on March 17th, 2013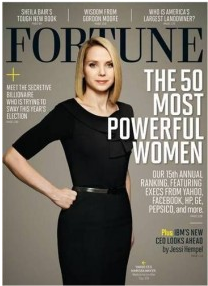 The attractive and smart Yahoo CEO Marissa Mayer is being routinely criticised in some circles of the media.
I for one do not see she has done anything wrong. 
Firstly insisting all Yahoo remote workers come back inside the company is a great move. I bet Yahoo was no longer sure who does what or who was who?
Think of it as a human resources headcount audit rather than an attack on the remote/home worker.
It reminds me a lot of a government organisation that had a huge mobile phone bill. The list had hundreds and hundreds of mobile phones. Way more than they needed.  
And nobody knew who had them. A simple quick but highly effective solution was to disconnect all the phones and wait for a response to have them reconnected on demand. Guess what ? this government organisation made an instant 5 figure saving per month!
And today we learn Marissa Mayer is personally vetting every CV and insisting on only college graduates from prestigious universities for new hires at Yahoo. 
Another fantastic move to ensure Yahoo gets the best and brightest. At this rate she may even offer me a role.
Yahoo CEO Marissa Mayer is to be applauded for applying a business owners brain to the dinosaur that is Yahoo. Not unlike former GE CEO legend Jack Welch, who was only to happy to cut the dead wood out and start the seeding process over. 
It's a shake up every bloated organisation needs at some point and today it is Yahoo , maybe tomorrow it will be your company?