A Pristine Clean New Website for EnvISO Clean Rooms
Published on November 2nd, 2016
ENVISO CLEAN ROOMS
Check out our latest website for EnvISO clean rooms.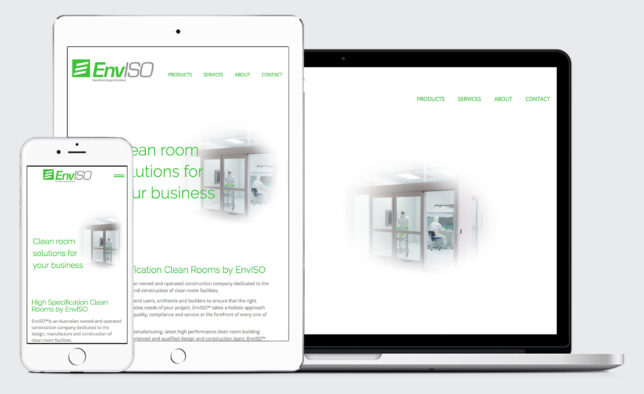 How we undertook the new Enviso website project.
Challenge: To create a website and brand identity that reflects the professional pristine clean nature of the clean room business.
Understand our client's industry:
EnvISO aims to set the industry standard for professionally manufactured clean rooms. EnvISO's high specification clean rooms are applicable to a number of industries including:
bio-technology
pharmaceuticals
manufacturing
medical
cosmetics
health care and sciences; and
high-tech laboratories.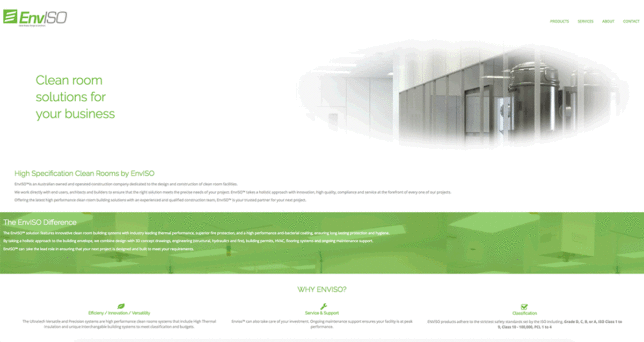 THE NEW ENVISO WEBSITE:
Many laboratories and bio-technology companies commonly work in sanitised environments. The new EnvISO website makes use of both, white-space and clean, crisp lines to emulate the nature of this industry.  The sterile hygienic nature of these clean rooms are key to a supplier's success, and within this industry, it is important that purchasers of these products know exactly what they are receiving with their EnvISO products.
The website's product page features interactive photos for each of their clean room products. This lends potential clients a clear idea of the structural elements of these clean room systems.
WEB TECHNOLOGIES WE USED:
HTML
CSS
PHP
WordPress
Javascript
Custom Backend Interfaces
SEO
Responsive Web Design
Google Analytics
Content Writing
LEVERAGING OUR INDUSTRY CONTACTS:
We were able to put the company in touch with a branding contact, who designed EnvISO's logos and corporate identity. We also helped put together a dedicated LinkedIn company page, to help to promote the business on other mediums. At Webtron, we're here to help your business grow. Contact us to see how we can help your business today.