Online Cloud Automation to Achieve Efficiencies for Business
Published on September 7th, 2021
Online Automation
Businesses are becoming increasingly aware of the fact that online cloud automation can achieve big efficiencies and allow workers to keep working remotely. Everyday webtron is helping organisations streamline and automate business fuctions via the cloud.
What does the cloud mean?
The cloud refers to software and services that run on the Internet, instead of requiring manual labor or preforming tasks locally on your computer.  Cloud services are accessed via your Web browser like Safari, Edge, Firefox or most commonly today the worlds most popular browser Google Chrome.
Everyday examples of cloud services include Google Gmail, Docs, Drive,  Netflix, Dropbox and Xero.
The advantage of the cloud is that you can access your information on any device with an Internet connection.
Since COVID-19 arose many businesses have emabraced online home working of using cloud applications remotely to acheive business goals . This has allowed home or remote workers to continue to work and collaborate.
"Why do things manually when we can use the internet to automate our business functions?"

It's faster , quicker and less manual handling. Online cloud automation means you can get the cloud working for your business 24/7.
Integrate all areas of your business
When we say business functions, we mean anything from accounting, sales, CRM, email marketing, booking, database and inventory management, buying, selling and information management. But by automating these areas of work, you can achieve huge cost and time savings.
We also want you to increase efficiencies for your business. Are you using cloud-based programs like MYOB, Xero, Mailchimp and Salesforce?
Chances are that they can integrate with your existing website. So let us make your life easier by syncing your business applications.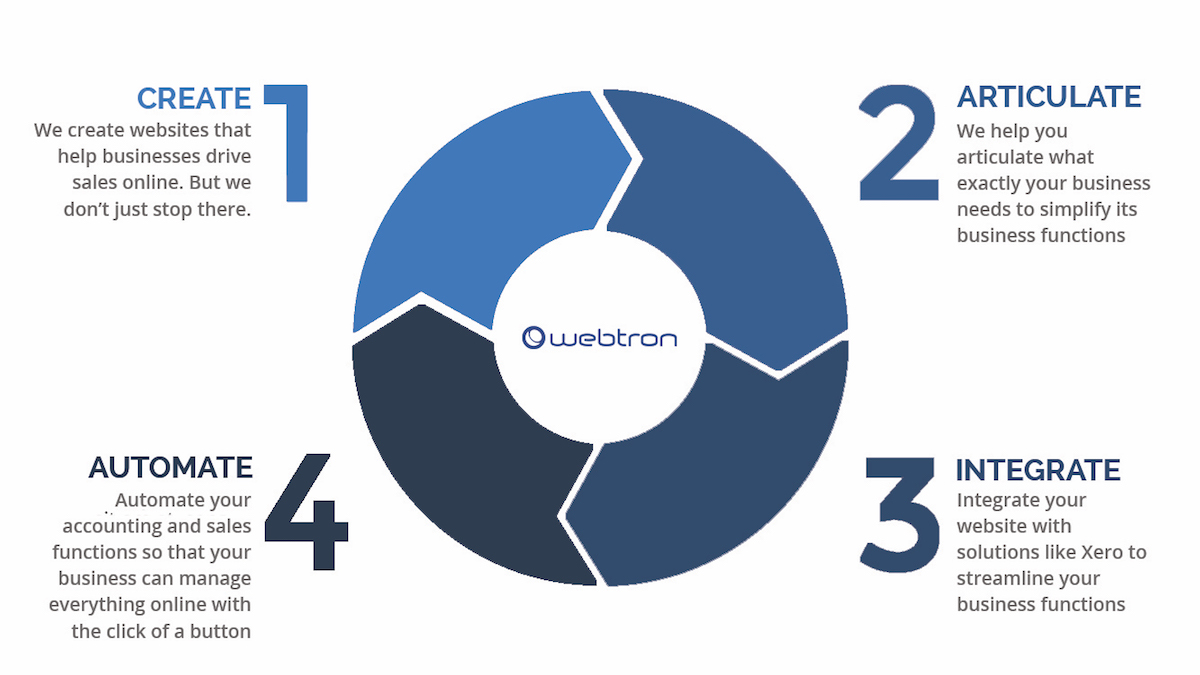 Through cloud integration and automation, Webtron will streamline business processes and drive down costs incurred to your business.
Call Webtron on 1300 932 876 to learn more or contact us today.