Say "Hello" to our new Website – Hello Real Estate
Published on November 1st, 2016
SAY HELLO TO HELLO REAL ESTATE:
Say 'Hello' to our latest website to hit the internet, for Hello Real Estate. Our in-house web designers and developers worked closely with the marketers at Hello to create for them, a stunning new website. The innovative Hello.com.au business model pairs home sellers with experienced real estate mentors to help you sell a home, and save on estate agents' commissions.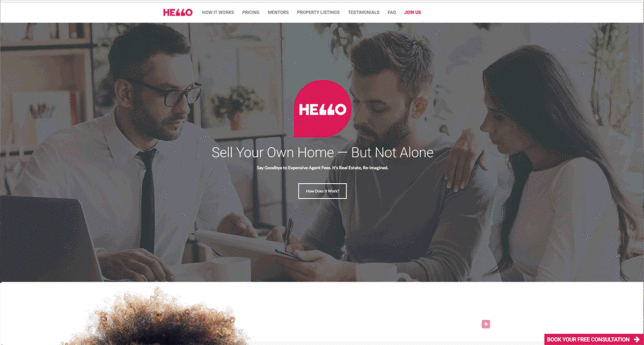 THE NEW HELLO WEBSITE – THE CHALLENGE:
For Hello Real Estate, our key challenge was to redesign and package this relatively new real estate concept for 2017 and beyond. Nothing stays still on the internet, so businesses need to constantly re-evaluate marketing and online strategies. And businesses are also constantly evolving so it's critical to strike a balance between current marketing position and your online brand representation.
Rather than having the focus on selling houses on the website, Hello wanted their website to be educational in its approach. They key aims would be to help educate the home seller to the 'Sell Your Own Home and Save' concept, and then to encourage people to contact Hello Real Estate and their mentors directly for more information. As you will from see looking at the the new Hello website, there are many avenues throughout the site to achieve this. For example "Book a Free Consultation" and "Contact a Mentor." The site is also designed to pair viewers with a mentor most relevant to them based on a number of algorithm factors. 
THE NEW HELLO WEBSITE – THE PLAN OF ATTACK:
We live in a world where increasingly 'simple' is usually best. Long gone are the days where people want to read through mounds of text to find what they are after on a website.
And with the internet becoming an increasingly visual medium, the brief for the new Hello Real Estate website was to work along this principle of simplicity.
The new Hello Real Estate website shows a strong corporate identity with its use of colour and imagery; two elements that can help promote a brand in the minds of your website's future visitors. The website is informative, but it also tells website visitors the basics about the service that Hello Real Estate is offering. It's basically the perfect online-ad for the business – which is what a website is supposed to be for! 
WHAT WE DID:
For Hello Real Estate's new website, the bulk of the project was completed using the following technologies:
HTML
CSS
PHP
API
Dynamic Content from XML Data Feeds
WordPress
Javascript
Custom Backend Interfaces
SEO
Responsive Web Design
The timeframe for the Hello Project was rather short. You probably wouldn't believe that a lot of advanced coding went into the Hello Real Estate website. This was particularly true for the mentor contact forms. These contact forms dynamically generate content for individual viewers based on location, and availability of the mentors. We predominantly automated this process because this is a goal many businesses are aiming to work towards. Driving down man hours and unnecessary double handling. Webtron added the ability for website administrators to create new mentors, and manage the availabilities of mentors. This gives admins the ability to include things like personal leave and holidays. Therefore the Hello Real Estate website can be as flexible as it is automated for employees.
WHO WE ARE: 
Since 2007, Webtron has created professional websites for many businesses. During this time, we have helped our clients internet sales and revenue grow for many different clients Australia-wide.
But for a professional approach to your next website re-design talk to the team at Webtron. And you can contact us here, or call us on 1300 932 876.