Internet Explorer: The End of an Era
Published on August 17th, 2016
The end of an Era for Internet Explorer

Starting to notice small problems when using Internet Explorer? 2016 marks the sour end of an era for the antiquated browser. After the 12th January 2016, Microsoft officially cut its ties with Internet explorer and dropped the internet browser from its product suite. It's also no longer supported by the multi-billion dollar corporate giant. This means that throughout the year, although we've still technically been able to use Internet Explorer to browse online, we would have started to notice that particular functions and features are starting to look sloppy… or maybe they don't even work at all! 
There was once a day where Internet Explorer dominated the online browsing community, and was the preferred internet browser of choice for a vast majority of the online population. Almost 20 years down the track and the browsing environment has changed almost completely. With new alternative and increasingly modern looking browsers like Google Chrome, FireFox and Safari appearing on the horizon, Internet Explorer had eventually fallen to the back of the pack in terms of popularity with its considerably inferior functionality and various software and security issues found in comparison to their newer competitors. 
One of the first truly successful, alternative browsers to Internet Explorer was introduced back in 2003 when Apple created their own internet browser, prompting most Apple Mac owners to jump ship to the online browser, Safari. Rumours of security issues and a specific proneness to malicious software, as well as various problems with updating "Adobe Flash Player" were easily fixed by jumping onto the stylish Google Chrome browser.
Combined with an emerging environment of new, and ultimately better internet browsers,  one of the final and most compelling factors which ultimately sealed the fate for Internet Explorer was the fact that it was a sheer nightmare for web developers to support,  and it seems like the rest has been downhill for IE from there.
As you know, Internet Explorer had many versions, in fact almost too many to keep track of – and every time there was a new update, (i.e. whenever Explore 9, 10, or 11 was released), a web developer would have to design a website that was compatible with all superseded versions of the browser (how bizarre does that sound?!). This might explain why if you're using an older version of internet explorer, certain features would cease to function correctly unless you were to update to the absolute newest version. 
The easiest way to explain this situation is to think of Internet Explorer as an old dilapidated building. If the foundations for a building are old or cracked, a business has to spend money and time going back to correct the building's problems on each of the previous floors each time they wish to build another level up. However, if this business were just to scrap the old building, and to move over to a completely new premises built the right way from the very beginning, in time this would become much more cost effective.  
And so, Internet Explorer has since been replaced in the Microsoft Suite of products by a 'stylish' new browser, in an attempt to regain the market share lost to other browsers over the years. In fact, you may have noticed a new icon popping up on our Microsoft computer screens.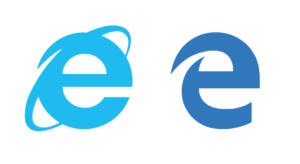 Not to be confused with the Internet Explorer, the new Microsoft Edge is Windows 10's new browsing platform that has replaced Internet Explorer on all new Microsoft desktops and devices. Microsoft Edge boasts a range of new features you wouldn't find on the old Internet Explorer platform, including the ability to annotate webpages, the ability to show notifications on your computer from websites like Facebook, and the option to use Cortana (Microsoft's equivalent to "Siri") in order to make browsing the web easier. 
And so it seems that there will one day come a time where we will only talk about Internet Explorer in the past tense – a day where we might sit around a table and laugh with our friends about the frustrations we once endured using it as a browsing platform. But can Microsoft really bring itself back to the forefront of internet browsing programs with their new browser Microsoft Edge? The chances aren't looking too bad, but only time will tell. Watch this space for more news on the demise of Internet Explorer, and the "rise" of the new Microsoft Edge.
For now, what we recommend that any Explorer users download Google Chrome in order to avoid experiencing further problems with the old Explorer browser, and to help with a smooth transition across the browsers. Or are you currently using and have any opinions of the new Microsoft Edge platform? Let us know by using the contact form!