We love a challenge -how we halved the time taken to develop a website
Published on March 27th, 2019
Tradies Heaven.
Tradies Heaven is currently being advertised heavily on TV, in print, and on the radio throughout Victoria. A tradesman will know the brand right away if you ask them. Such an influence was made in a short amount of time.
It was an honour for Webtron to create the website for this brand-new business that will one day become a household name in the Australian automobile industry.
Our task was not easy! We had to design, build, and deliver the Tradies Heaven website in half the time it usually takes to build a website, as well as create a memorable, user-friendly online sales funnel.
A two-month website completed over a one-month timeline. 
How did we do it?
Project Management in web design is crucial to having sites delivered on time and on budget. And the Tradies Heaven site is living proof. Melbourne's Cheapest Cars aka the brains behind Tradies Heaven, invited us over to brief us on the new site they required before grand opening day on the 22nd of March 2019.
They had the colours and logos picked out for their new venture, however required our input on their new website. Their website had 4 crucial requirements :
The ability to move away from a third-party stock locator to an in-house custom-built stock feed solution;
An easy-to-use and logical finance application form;
A stunning website video homepage
A modern and user-friendly design to appeal to the new target market
Our team went to work to put together a first round of mockups for the homepage. We do this before we start building each website to best capture the look and feel our clients are after. We also completed mockups for the vehicle description and stock pages to illustrate a clear pathway to search for cars online.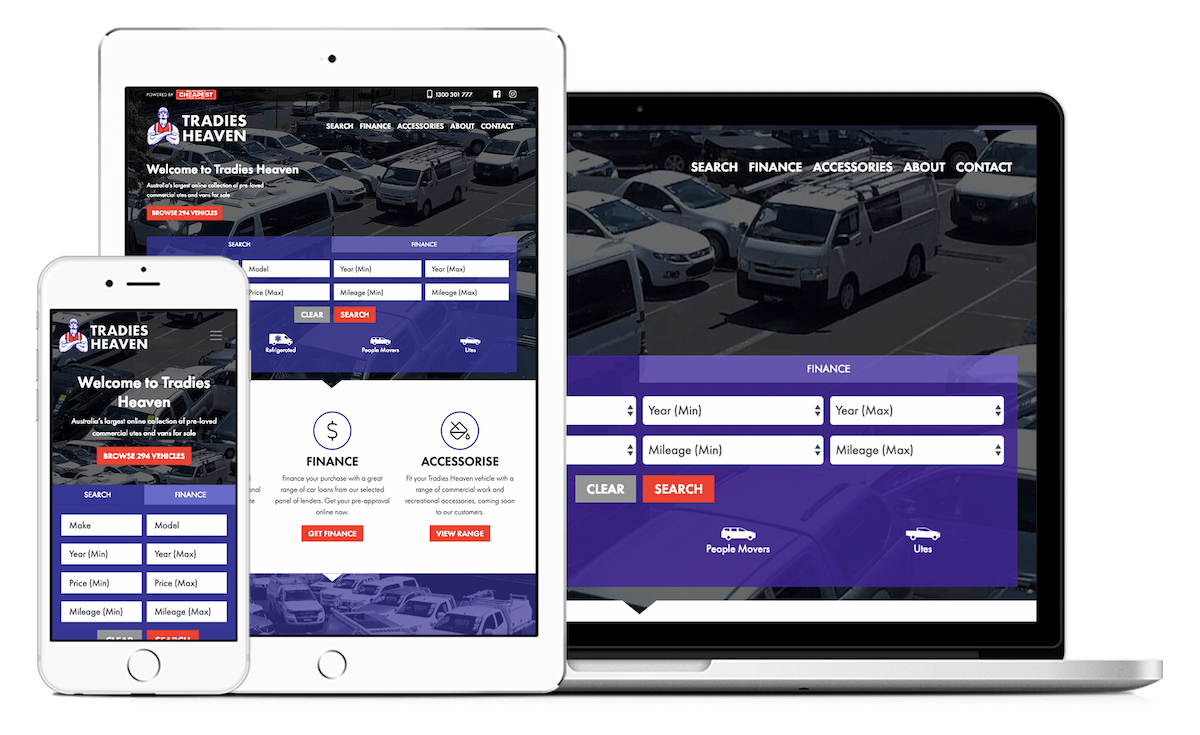 Once the mockups were approved by management, we set up a timeline consisting of development tasks to be completed by the March 22 deadline. By using online project management tools such as Asana and by maintaining regular communication with the internal and external teams, we were able to create a clear roadmap to have this project delivered to a high standard and on time.
The result, well you judge for yourself Tradies Heaven .