Webcast and Web-Conferencing – What's the Difference?
Published on September 17th, 2014
Webcast and Web-Conferencing
What's the difference between Webcast and Web-Conferencing?
Webcast and Web-Conferencing: A webcast is a media presentation distributed over the Internet using streaming media technology to distribute a single content source to many simultaneous listeners/viewers. A webcast may either be distributed live or on demand.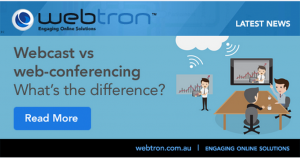 Essentially, webcasting is "broadcasting" over the Internet. A webcast is best described as a service which streams content from one place to many people in an online audience.
A professional corporate webcast usually features professional filmed vision and audio, a branded page and PowerPoint Slides. Professional corporate webcasts are a popular corporate choice for many events including seminars, conferences, AGM's and product launches.
Sometimes a webcast may be confused with web-conferencing, which is best described as many people or places streaming content to many viewers. Web conferencing is not professionally filmed or feature professional audio. Web conferencing is popular for inter-company meetings, group work and remote office team work.
So a webcast vs web-conferencing, in turn, are really quite different.
Elements of a professional webcast:
 Contact us at Webtron today for our webcast and web-conferencing services.